Contact Lens review for EOS Super Nudy blue! (14.50mm)
These lenses are basically a larger version of the GEO Nudy Quarter series. I've tried the GEO Nudy blue before and I really loved them. They were the only blue lenses of the ones that I've tried that haven't let me down.
Differences between the GEO Nudy Quarter and EOS Super Nudy:
1. With the GEO version you have a set size of 14.00mm but with the EOS version you can either choose to have the 14.50mm or 15.00mm (depending on where you buy them from)
2. The colour of the EOS Super Nudy blue is slightly darker than the GEO Nudy quarter.
There was no advertised image for the Super Nudy blue so here's what they look like in the case. The left side is the back of the lens and the right side is the front. As you can see, the coloured area is really spotty and pixelated which is how Angela came up with the pick up line:
"I look into your eyes... and I see... pixels."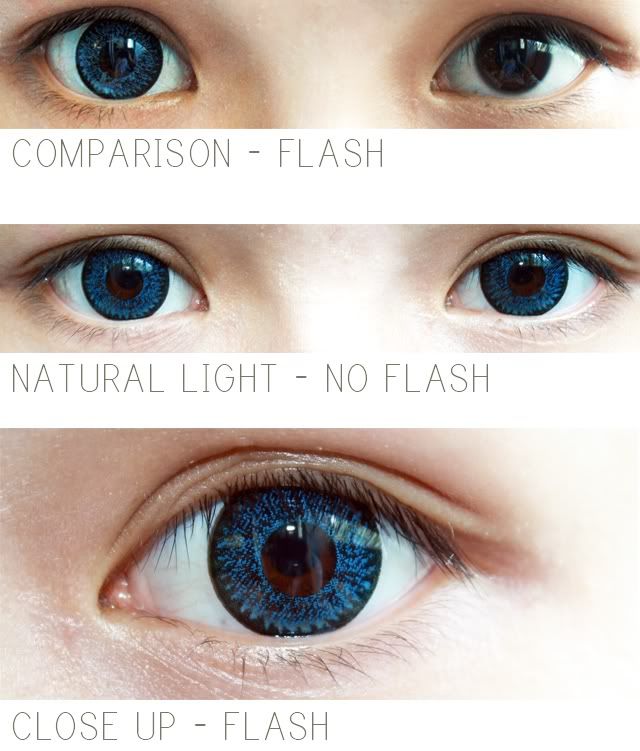 FINAL VERDICT:
Design: 8/10
- The design doesn't blend very well into the eyes so it looks creepy when you see them up close in real life. They look really nice in photos though.
Size: 9/10
- Really noticeable enlargment.
Colour: 9.5/10
- If only they were slightly lighter.