While I was going through my Flickr contacts the other day, I came across
burn our souls, release the wicked II
by
Ailera Stone
and I really liked the headband that the models were wearing so I decided to make one for Sandra as a gift. The leaves were pretty fluro but it came out pretty nicely :3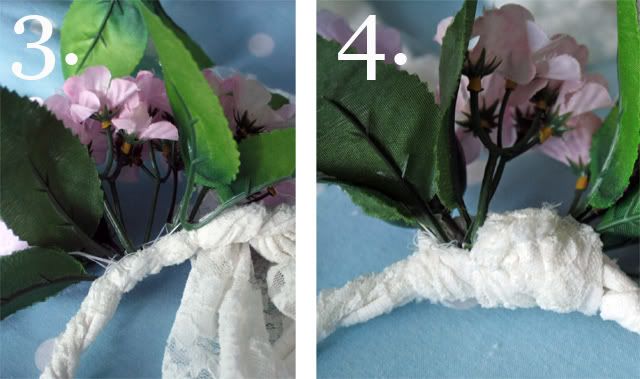 1. What I used: Fake flowers that Linda gave me, lace I cut off from an old skirt, wire, needles and thread. First, all you have to do is wind the ends of the wire together to make a circle that'll fit around your head.
2. Wrap the lace around the wire and tie a knot when you're done. Don't cut off the excess lace.
3. Use a needle and thread to stitch the flowers onto an area close to where you tied the knot. Try to make it as stable and tight as you can.
4. Use the excess lace from the knot to cover the stitches you just made. The lace can be used as extra support to keep the flowers in place. Stitch the two tails of lace together discretely and cut off anything you don't need.